I need some feedback and ideas and guess who I come to first....yep, you! Look in the mirror and you know who I am talking to :). Give yourself a great big pat on the back because I know that you want to offer feedback....right?
OK, here is the dilemma....if you read my posts, you know that I have recently gotten a sudden burst of creativity and need to get crap moving, well not moving per say but just changed up and spruced. A new season, a new leaf turned, a new blah, blah, blah. Actually, I was just kind of looking at my huge picture wall that I have in my living room and a year has past since any new pics of Marcus (my grandson) have gone up or were switched. He pointed out in his almost two year old language the other night that PaPa is holding the "BayBay" (in his sort of Louisiana sounding word..lol). We tried to explain that the pic was of Grandpa and Marcus when HE was a baby but since he is NO longer a BayBay, he just didn't get it so...time to update the wall. Hey, if I was as adorable as him, I would want to see my face plastered all over MiMi's (me....Gammy shortened) wall. I am going to show a few pics below that will show how it originally started and what it looks like today and explain what I need/want to do. First, this is originally what it looked like right after I hung the vinyl words up. Oh and keep in mind that I have a large cutter for my vinyl so the wording is a given piece that is going to change.
My original wall, blank until I added the initial vinyl
and two collage frames. I worked everything
else around them.
Gaps filled but still not great. The lamp I love
needs to be moved. It scratches the wall
and we don't even use it.
This is the wall today.
I was playing around with the wall last night and trying to figure out which way I want to go with it. First, black and white is just so, black and white so I need to add some colors. If you look back at my posts, you will see the cool turquoise clock that I repainted. That sits to the right of this wall so using that same turquoise makes sense and pinkish/peachy color is light enough that it doesn't knock you out when you walk in and see it. Oh, and you can see that the lamp, although pretty, has been moved to the basement for now until we can find a way to incorporate it back in. So the words are new, the large "A" still ugly craft paper color is just up to show that I want to incorporate it in, plus my project from last week, the "A" in the glass picture frame hung by a ribbon. One more art piece will be going up but it is not finished yet. It will be sort of like the button art piece below but I am putting it on a painter's canvas covered in burlap material. The button colors will be a lot cream, mother of pearls, lighter browns and I think I will incorporate a few turquoise" just to break it up.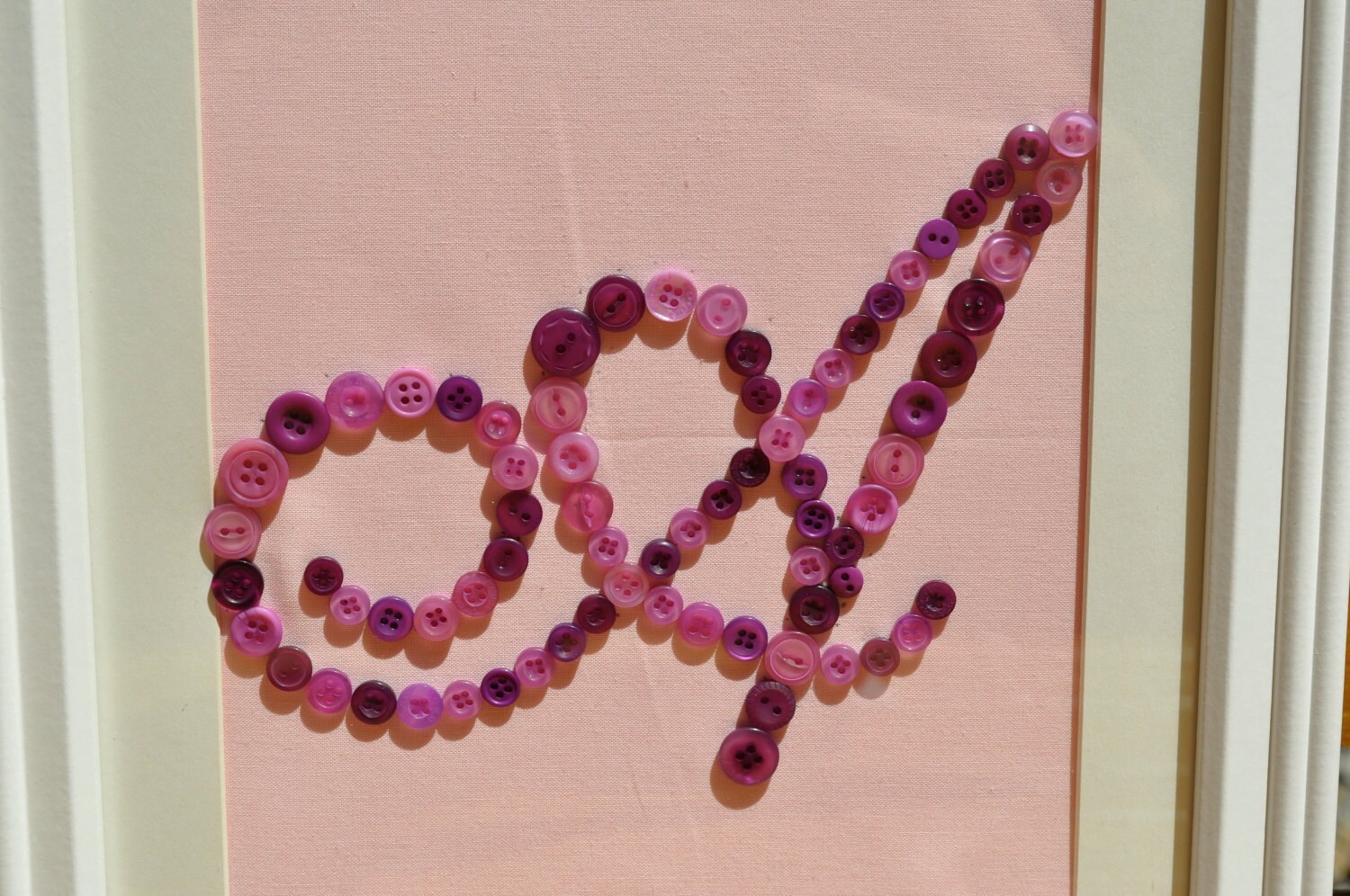 So what do you think of it all? Do you like the idea of the small wooden words? Do you like the idea of breaking up the pictures with a little monogram art? What should I do with the big "A", modge podge it, paint it, modge podge and glitter? Now you are on to something! :) What should the vinyl say? I have some pretty standard ideas, but am liking "Memories. Memories are timeless treasures of the heat.", "Every Picture has a story to tell", "Family is belonging to and believing in one another", "Families are forever", "Moments to Remember", "Home is where your story begins". Any of them jump out and smack you? No, me neither. I know that when I see it, I will just know but hey, I could just put romper Room! LOL I hope you all have had a wonderful weekend and any help or feedback is always appreciated.
Anyway, if you take the time to read this, please comment and give me your feedback and ideas.
Until later...
Mamalou